Open gym hours: Wednesdays 8-10 PM - ages (15+)
Fridays 5-8 pm (All ages), 8-10pm (15+).
$17 drop in, 10 pack for $150
Ninja Warrior
Ninja Warrior is a true test of physical prowess. It is a you against the course (and clock). With the ever increasing obstacles, you never know what you will be challenged by. This is why Ninja Warriors have to have endurance, speed, mobility, strength and creativity! In our classes we get get to improve these all while training on obstacles. There is more than one way to complete an obstacle and each obstacle will challenge you in different ways.
Parkour
Parkour is using your body to navigate through your environment as fast and efficiently as possible. It consists of running, jumping, climbing, vaulting and many techniques to go over, under and through obstacles. Parkour can be described as a non-combative martial art that is used to get to a place (reach) or get away (escape). For some, Parkour is more of an art form which focuses on more aesthetic movements such as flips, twists, kicks and dancing.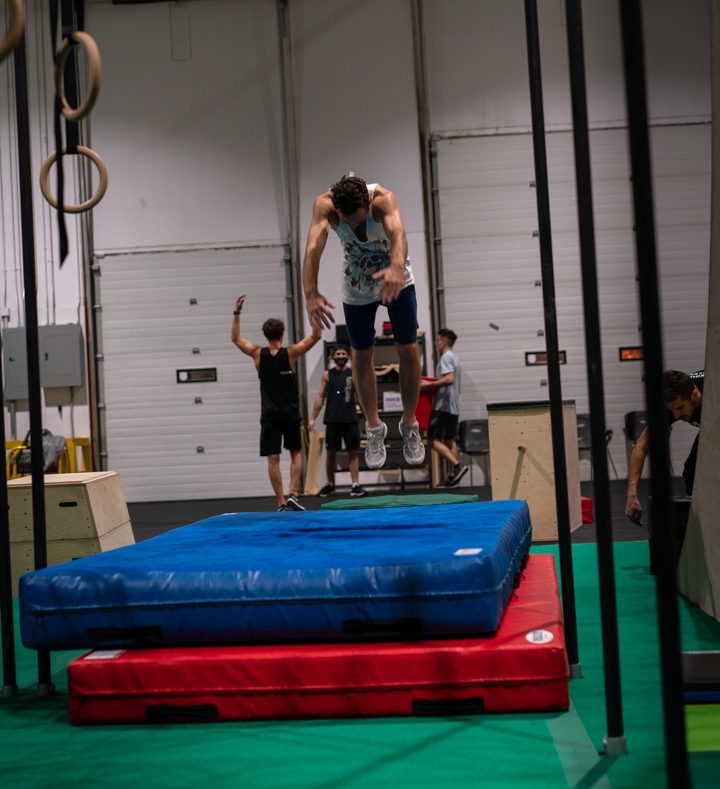 In our classes, we start with the fundamentals and build up to the most advanced techniques throughout 6 levels, ranging from white to red bands. In our beginner classes (white and yellow band) we go over the basic techniques to build up strength, mobility, proprioception and confidence. This teaches participants to train safely and effectively while preparing them for more advanced techniques in our intermediate and advanced levels.
You can view our Cancellation Policies here.
Registration for Winter programming will open in late November.
Meet Our Instructors
Tom Selby
12 years Parkour experience

9 years Martial Arts tricking

Started Parkour instruction in 2008

Hopes to encourage and inspire others to move and push beyond their mental and physical limits

Loves to coach kids to adults and excels in breaking down advanced movements to teachable components

From beginner to advanced levels, Tom will progress you in a safe and effective manner that has you doing the courses and tricks you want!
Xie (pronounced Christie) is the face of Women's Parkour in Winnipeg and has been training Parkour for 7 years
With a genuine passion for Parkour and the power of movement

Brings a fresh enthusiasm for the sport and for beginners

Xie is a wealth of knowledge and would love to share her passion for the sport with you!
Has been jumping to new heights for 9 years

Expert at Flips and Parkour

Experienced at teaching individuals to push their capabilities

Has traveled abroad for world events, performances, media events and more

Always perfecting his craft by learning and improving to be a more dynamic and effective instructor
...But the kids just call him Bob!
Has a background in competitive gymnastics, turned parkour and freerunner

Parkour has led him to travel across Canada and Europe training with some of the world's best parkour athletes

Has competed at qualifiers for the North American Parkour Championship

Has coached for organizations including St. Andrews Gymnastics, Fantastic Gymnastics and T.P. Parkour Institution

Coaching approach is to try and strike a balance between athletic play and structured development

Original member of Winnipeg's only parkour and freerunning team, Team Kazem
NEWS
Find out more about the unique training and group fitness classes Serratus Movement Centre offers in the Global News coverage below.